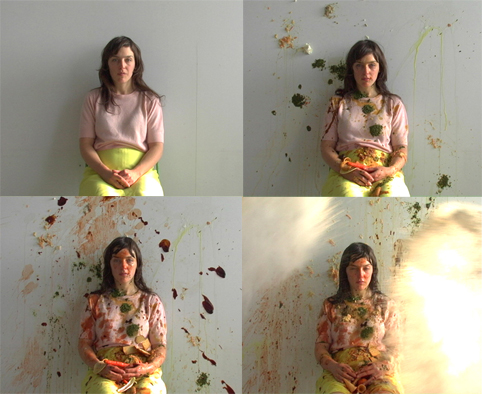 Under Assault (Prise d'assaut), video still, 8'50'', 2011

This video is part of a tryptich; first of a series of 3 videos entitled Forms of Restraint.
A woman is the target of an unusual attack, composed of food and domestic waste. Different items are flung in her direction with some velocity, staining her skin and her clothes. This video addresses issues of overconsumption, the handling of waste while depicting unrestrained violence. As the action unfolds, the scene becomes progressively more grotesque, disturbing yet oddly decorative.
"Prise d'assaut documents a domestic assault waged against a passive female figure, the artist, in bright hopeful frocks, her back up against the white wall, sitting motionlessly through the humiliating trial of judgment and soft stoning by way of food, delivered from behind the camera. Turning an exasperated hate-filled gaze back at the lens, she silently endures the painful tar and feather-like ordeal, as if under siege by an angry mob of tots laying waste to an over-stocked kitchen. As the battery of food rains down upon her, the expressionistic rainbow splatters and onomatopeic thump, splash, swish, bang, characteristic of the comic stage fight, are met with neither masochistic enjoyment nor slapstick humor, lending the freakish aggression an unsettling gravity, in a reference to a historical tradition of performance and body art that would locate its origins in and against Pollock's drip paintings and Kline's body brushes." Text by Stephanie Bertrand
Thank you to Helena Martin Franco, Florence S. Larose and Kg Guttman.
Watch an excerpt: